If you're over 40, you can get lean without spending hours in the gym or starving yourself.
Are you tired of the belly fat? Do you hate the way it makes you look? Most people over 40 fail to look and feel the way they want simply because they haven't been given all the tools to do it.
I know the struggle! I'm Hall of Fame bodybuilder Porter Cottrell. I'm now in my 50s and I've taken everything I learned as a world-class bodybuilder to create my ACHIEVE program. I'll give you the secrets of working out, nutrition, hormone balance, and supplements that you need to get lean and stay there.
How you can get the body you've always dreamed of (even if you've failed before)
ACHIEVE is for people over 40 who want a sustainable way to get and stay lean and energetic as they age. You'll learn foundational principles of healthy fitness that fit into the busy schedule that you can stick with for a lifetime.
Here's how it's different than anything you've tried before.
Get the Workout & Nutrition Program Custom Made for Men & Women Over 40
Learn the foundational principles for staying lean and vigorous for the rest of your life.
Module 1: How to Reshape Your Body After 40
Learn how anyone, regardless of age, can turn back time to look like they did in their 20's

Discover the two critical factors for accelerating fat loss without tanking your metabolism and losing muscle

Understand what is metabolic damage and how to reverse it to turn your body into a fat-burning machine
Module 2: Self Assessment & Goal Setting
---
Learn how to set process-oriented goals that will motivate you to stay the course and not get frustrated and drop out

Understand the power of getting clear on what you want, so you can get laser-focused on what you need to do daily

Eliminate information overwhelm and learn how to set micro-goals to ensure you stay on track
Module 3: Roadblocks that will undermine your Success
---
Discover the Top 10 Landmines that Will prevent any progress or weight loss

Learn the #1 Reason Why You Fail and what you can do about it

Discover that not eating enough food will not only PREVENT fat loss but also ACCELERATE losing muscle

Learn how the critical witching hours from 8-11 pm sabotage 95% of your hard-earned efforts of the day, regardless of how much you exercise

Learn how cutting calories too fast will tank your metabolism—the result, skinny-fat.
Module 4: The Secrets to Building a Successful Mindset
Discover how your brain works and why your efforts always fell short in the past.
Learn the "magic pill" to weight loss, which is the ability to get yourself to take consistent action to do something that you may not want to do at the time.
Understand the Pain-Pleasure principle and how that drives everything we do, including eating lots of doughnuts!
Module 5: Nutritional Foundations
---
Learn the Critical Importance of Finding Foods You Like versus following cookie-cutter meals plans you hate
Finally, understand macronutrients by using real food examples
Learn exactly how much protein, carbs, and fats to eat based on gender and body weight
Discover how to quickly put macros together (2 lessons)
See sample meals put together in real-time (5 Lessons)
Learn what's the scoop on protein drinks and why you should only consume them as a last resort if you can't get access to a meal
Module 6: Eating to Build Muscle and Burn Fat
This module will show you exactly how to cook the most delicious meals to eat healthy so that it's not a chore but something you look forward to for every meal

See step-by-step studio-quality instruction on grilling, baking, and stirring frying foods that are quick and easy to prepare
Module 7: Supplementation
---
Understand what supplements are and how and where do they fit into your nutrition plan
Discover what supplements work and fear not; you can purchase them at any health food store or Grocery Store
Module 8: Hormone Optimization
---
Understanding Hormone Balance
How Do I Read My Hormone Levels and What Do I Do if They're Off
Key Step: Partnering with Your Physician and Getting Your Bloodwork Drawn
Module 9: Principles of Training
---
When it comes to resistance training
Porter explains the principles that he used to build his Hall-of-Fame physique

Demystify the complexity of sets, reps, and rest times between sets

Learn how to split up your body parts to sculpt the body you have always wanted but could never achieve

Understand when to increase weight and intensity

Learn how to string exercises together that boost health and not destructive to your joints and tendons
Module 10: Phase I Step-by-step
---
Navigate the gym with confidence. Get detailed guidance on the exact exercise with detailed explanations on what to do every day.
Exercise Library
---
36 Complete Workouts
Over 100 Exercises Custom-Designed for Folks Over 40
Cardio and Weight Lifting Techniques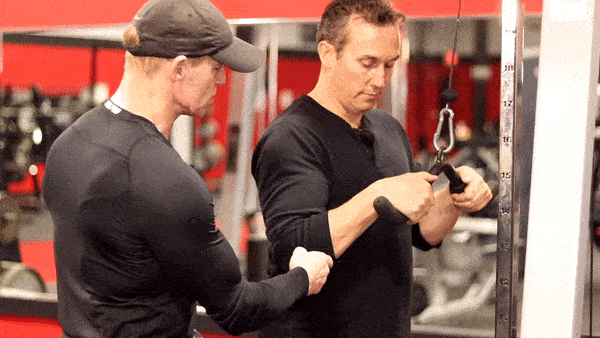 Here's what you'll get with ACHIEVE
36 Workouts: Exercises that build lean muscle specifically designed for folks over 40
Complete Nutrition Plan: Learn how to sculpt your body without feeling hungry all the time.
Daily Coaching Video: You'll know exactly what to do and when to do it.
Hormone Optimization Video: Discover how to determine if hormone therapy may be a way to regain your lost vigor.
Monthly Live Streams with Me: I'll answer your questions and give you keys to success.
My Facebook Community: Receive encouragement and accountability from guys walking the same path as you.
Bonus videos on supplements, meal prep, getting a winning mindset, and much more!
You'd pay an average personal trainer over $2,500 for a program like this. With ACHIEVE you'll train with a Hall of Fame bodybuilder for just $97!
Porter Cottrell
When I was just 12 years old, I watched a Hercules movie that forever changed the trajectory of my life. As soon as I saw Mr. Universe Steve Reeves as the lead I said to myself, "I want to look like him."
That day led to a professional bodybuilding career which included 29 titles and a top 5 Mr. Olympia finish. In 2011 I was honored to be inducted into the International Bodybuilding Hall of Fame, joining the likes of Arnold Schwarzeneggar, Frank Zane, and my childhood idol, Steve Reeves.
Since retiring from bodybuilding, I have worked as a personal fitness coach. My passion as I get older it to help men and women over 40 lose weight, build muscle, and feel great into their 50s, 60s, 70s and beyond.
Lance Perkins
When I was younger, I was in great shape. I worked out regularly and saw great results. I felt great and was proud of the way I looked.
But, as I moved into my 40s and 50s, things changed. The busyness of career and family squeezed out much of my time. Even when I did workout, belly fat kept piling on and I felt tired and lethargic.
By the time I hit 50 I was 30 pounds overweight and was about to go on blood-pressure medication. I decided it was time to get help! I have known Porter for years, so I met him and asked what to do.
The journey from there has been amazing! Porter taught me the principles that allowed me to maintain a lifestyle where I look and feel great.
"The transformation was amazing! I thought after 50, there was no way I could get back in shape. I couldn't believe, not just how different I looked, but how much better I felt. I have more energy and a renewed confidence in myself!"
Lance Perkins
Watch the Transformation
"I was in great shape when I was younger. But, in my mid-30's things began to change. No matter how hard I worked out, my body kept changing for the worse.
Here's how Porter Cottrell helped me go from 186 lbs. with 23% body fat to 160 lbs. with less than 12% body fat.
If you want to change how you look and feel do this program right now!"
-Lance Perkins
"I've been following Porter's principles for years. I tried everything, but the thing I've loved about ACHIEVE is that it teaches me how to eat and exercise in a way that is easy for me to maintain.
I want to look great and stay active as I get older. I'm convinced that everything I've learned from ACHIEVE will help me do that."
Shannon
Age 53
How ACHIEVE Works
You really can be in the best shape of your life after 40! I'll teach you how to lose fat, build muscle, and regain your youthful energy levels in a way you can sustain for a lifetime.
Learn How to Eat to Shed Belly Fat
You don't have to be hungry all the time to lose weight. Learn how to sculpt your body with meals you'll look forward to eating.
Build Lean, Fat-Burning Muscle
You can look great by spending less than three hours a week at the gym. You'll get 36 workouts custom made for people over 40.
Gain Energy and Beat the Aging Process
Learn how to look and feel great for a lifetime by optimizing your rest, supplements, and hormone levels.
Get Answers and Accountability
My exclusive Facebook group will put you in touch with others who have the same goals for their physique.
Check It Out
In my HD quailty videos you'll learn the simple principles of nutrition, hormone balance and how to workout injury free. Check out a few clips from our sessions below!
"I'm in my 50s, and I look and feel better than I ever have! It's incredible to me that I could lose over 60lbs without feeling hungry all the time. I've genuinely found a system I can follow for a lifetime. Body Achieved is so unique in that Porter and Lance teach you how to make these changes. As a radio host, I recommend this program to all my listeners."
Dwight Witten
I Want to Be Stronger As I Age
"If I wanted to learn how to play golf, I'd get Tiger Woods. If want to learn to workout, I'm going to get Porter Cottrell."
Kevin S.
What Makes ACHIEVE Different?
Are you gaining weight even though you are eating the same way you always have?
Are your energy levels low most of the time?
Have you tried workout or diet programs only to fail weeks later?
Did you gain back all the weight you lost?
Did you fall back into the same lifestyle you were living before the diet or exercise plan?
How many times do you need to yo-yo back and forth before you convince yourself that it's not going to work?
ACHIEVE IS DIFFERENT!
I'll teach you principles of healthy eating and exercise, not a fad diet or workout - principles that you can implement for a lifetime.
You must understand that the greatest challenge is not changing your body, it's changing your mind.
I'll train your mind while I train your body so you will come out with the mental toughness to make real, lasting lifestyle changes.
As you age, the key to fitness is found in nutrition, exercise, rest, and hormone balance. I'll teach you how to successfully address all four.
So, defy the aging process! Look great and feel great naturally with my 12-week ACHIEVE program
"I've been overweight most of my adult life, so I decided to give this program a try. Body Achieved is the real deal! The video instruction is fantastic! I'm down 40 pounds and never thought I could look and feel this good. If you have tried other things and have failed in the past, I highly recommend getting this program. Game-changing!"
Alan W.